Subsidiary Company Registration in Japan
Subsidiary Company Registration, Incorporation, Formation. Setting-up of a Kabushiki-Kaisha (KK Co.), Godo-Kaisha (GK Co.) in Japan. Opening up a legal entity and business presence in Japan.
A foreign company willing to establish a subsidiary company in Japan may choose from the following options:
There are also formats such as unlimited partnerships (Gomei-Kaisha) and limited partnerships (Goshi-Kaisha) under the Companies Act. Still, they are rarely chosen in practice because equity participants burden with complete(unlimited) rather than limited liability. 
A subsidiary is a separate legal entity from the foreign parent company. Therefore a foreign company will bear the liability of an equity participant stipulated by law for all debts and credits generated by the subsidiary company's activities. The minimum requirement for establishing a subsidiary co in Japan is to have a local physical address (not a PO Box) and a local "Resident in Japan." [Please see the "Note(a)" below re exception for a local "Resident in Japan."] Local Resident in Japan could be either a Japanese or a foreign national, but the person must have an appropriate residence status as per immigration law for a foreign national.
Japan "One-Stop Solution" "Since 1993"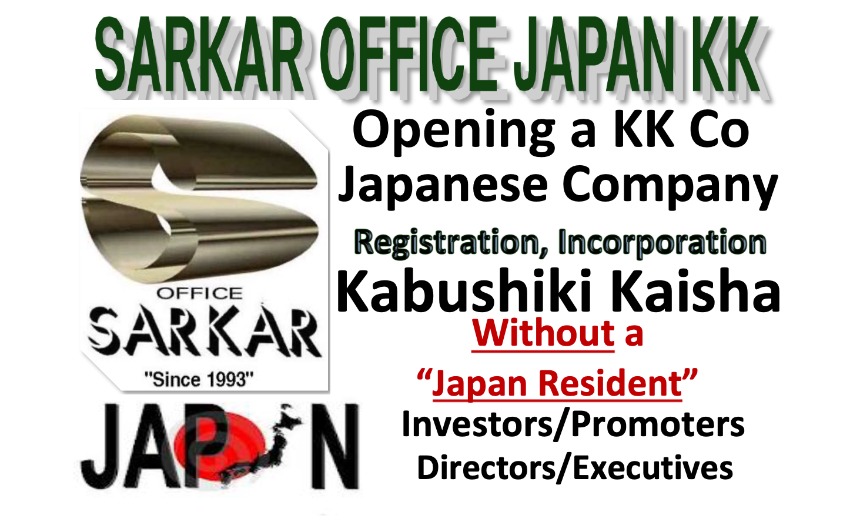 Note(a): The exception is allowed that "No Local Resident in Japan" is required as a mandatory requirement for registration of a "subsidiary company" since the change of regulation effective Mar'2015.
Japanese govt. has allowed foreign companies to register a local subsidiary company(Kabushiki-Kaisha [KK] or Godo-Kaisha [GK]) in Japan without a local "Resident in Japan."
Japan
Subsidiary Company

(

Kabushiki-Kaisha (KK Co.), Godo-Kaisha (GK Co.)

) Incorporation Services

The features of Kabushiki-Kaisha [KK Co.] and Godo-Kaisha [GK Co.] Limited Liability Company at a glance: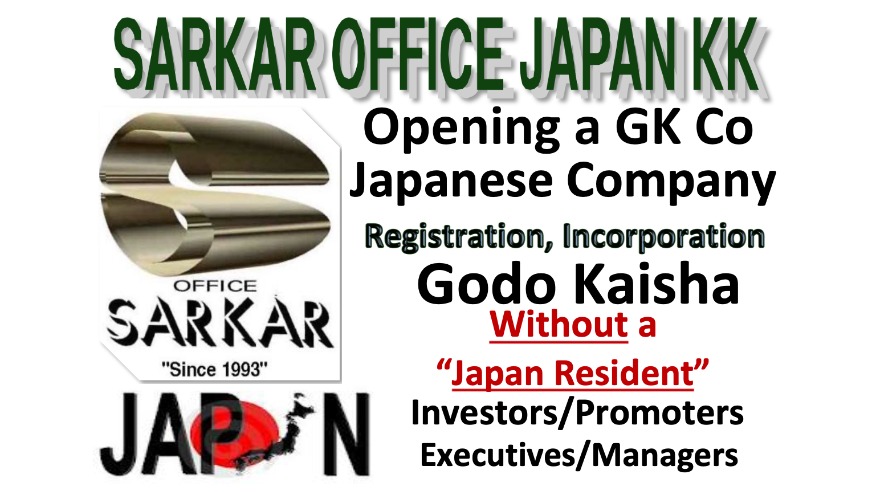 Capital

: 1(one) yen or more. [Establishment with zero yen capital is theoretically possible, but in practice, it is impossible to incorporate without paying the capital amount]

Investors

: 1(one) or more

Corporation as an Investor

: Possible (the process of registration is lengthy)

Liability of Investors

: Limited to the amount of investment/equity participation.

Directors / Executive officers

: 1(one) or more (In case of a GK. Co. in principle, all members are executive officers, but maybe stipulated otherwise in "Articles of Association")

Legally stipulated term of office of Directors / Executive officers

: In KK (with capital less than 500 million & without committee [Kabushiki Joto Seigen Kaisha]) 2 years in principle and extend-able up to 10 years. In the case of GK no legally stipulated term.

Transfer of share/equity

: In the case of KK, it can be transferred freely in principle unless it is stipulated in "Articles of Association" that it requires the board of directors' approval. In the case of a GK, unanimous consent of members (equity holders) is required.

Resident in Japan

: Effective Mar'2015 Japanese government has allowed foreign companies and or individuals to register a subsidiary/local company without a resident in Japan.

Registered Office

: A local address in Japan is required. (physical address and not a P.O. Box)

Co. Secretary

: Not required

Yearly Auditing of accounts

: Not mandatory
Time-frame for registration: For the procedure, please refer to the registration flowchart of Kabushiki-Kaisha [KK] Co. & Godo-Kaisha [GK] Co. Upon applying to Legal Affairs Bureau for registration, it takes about 2(two) weeks to obtain the registration certificate.