Japan Branch Office Incorporation, Registration Procedure
Japan Branch Office Registration, Incorporation, Formation, Setting-up Procedure, Step-by-Step Guide, Timeframe
Japan Branch Office: A branch office of a foreign company carries commercial transactions in Japan as per the parent company's decision/instruction and usually is not expected to independent decision-making. The branch office can start business operations as soon as registration is completed with the local authority and all necessary post-registration mandatory notifications to relevant local authorities are completed. A branch office does not have its own independent local legal corporate status. Instead, it is deemed within the umbrella of the parent company's corporate status outside of Japan. In general, therefore, the branch office foreign parent company is ultimately responsible for all debts and credits generated by the activities of its Japan branch office.
Branch Registration: At the time of registration of a branch in Japan, there is no requirement to establish statutory officers/management bodies such as directors and auditors. A branch office only needs an "A Representative in Japan." The branch office can register a maximum of 2 (two) "Representative in Japan," but 1 (one) must be a "Resident in Japan."
Japan "One-Stop Solution" Incorporation, Statutory Services "Since 1993"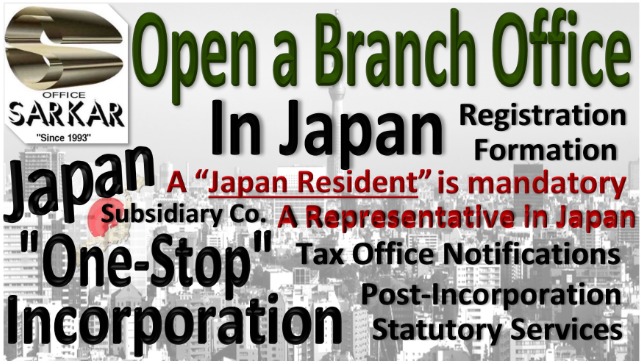 Basic Flow of Japan Branch Registration Step by Step Guide and Procedure. 
1] The decision by a foreign company for establishing "Japan Branch Office." And fix the address in Japan for the branch.
2] Prior notification of establishing a branch office to the Bank of Japan depending on specific sectors. However, the "mandatory" Branch Office post-registration "Notification to Bank of Japan" has been abolished for other sectors.
3] Appoint a "Representative in Japan" for the Branch Office. The branch office can register a maximum of 2 (two) "Representative in Japan," but 1 (one) must be a "Resident in Japan." Arrange two original Personal Seal Certificates of the Representative (Japan resident).  
4] Selection of Branch Office information to be registered in Japan from Parent Company's Articles of Association, Company Registration Certificate, and other official documents.
5] The Parent Company to decide Branch office "establishment date" in Japan.
6] Preparation of "Affidavit" regarding Branch Office registration and "Signature Certificate" of the Shareholder/MD of the parent company and the second "Representative in Japan." 
7] Attestation of the "Affidavit and Signature Certificates" at a Notary Public Office in the parent company's home country. 
8] Endorsement of Branch Office Registration documents by Representative in Japan. Japan resident representative endorsement by the personal seal. The second representative's endorsement by signature.
9] Application to Legal Affairs Bureau for Branch Office and Branch seal(s)[stamp] registration.
10] Obtaining Branch Office Registration Certificate and Seal Registration Certificate(s)" from Legal Affairs Bureau (Approx. Within two weeks after application for registration).
Completion of Japan Branch Office Registration in Japan.
Japan Branch Incorporation [Business and legal-entity establishment]
Branch Office Post-Incorporation Mandatory Procedures in Japan
1] Mandatory Notification to National and Local Tax authorities.
Completion of Post Incorporation of Branch Office Mandatory Procedures(requirements) in Japan.
Company Incorporation [Business and legal-entity establishment in Japan]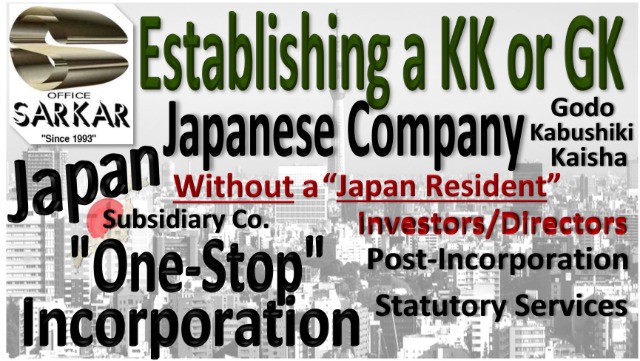 Please note the followings:
Opening a Corporate Bank Account in Japan - Futsu Koza - Ordinary Account. The Japan Branch can apply for a company bank account with a local bank upon completing the above procedures. The screening process and procedure vary from bank to bank, and the decision is at the bank's discretion.
Japan's social security system: Generally, Health, Nursing Care, and Employees' Pension Insurances are referred to collectively as "Social Insurance." Workers' Accident Compensation Insurance and Employment Insurance are known collectively as "Labor Insurance." The Japan Branch must enter "Social Security" systems at the time of hiring first staff or paying salary to resident "Representative in Japan."
Individual/Personal Income Tax: The Japan Branch must deduct withholding income tax from the salary of staff and local "Representative in Japan" and follow the procedure as per local regulation, including making payments (mandatory requirement).
Corporate Annual Tax return and tax payment: The Japan Branch must file an annual tax return for corporate tax, corporate inhabitant tax, and enterprise tax on the branch office income within two months from the day following each financial year's last day (mandatory requirement).
Consumption tax(VAT): Self-assessment and payment as per the local regulation. Tax-exempt enterprises: Corporation whose taxable sales in a fiscal year are less than 10M yen. The current consumption tax rate is 10%.
Time-frame for Branch Office Registration: Upon applying to Legal Affairs Bureau for registration, it takes about 2(two) weeks to obtain a Branch Office Registration Certificate. For further details, please refer to the registration flowchart of Branch Office
Japan Branch Office verses Subsidiary Company- Comparison At a Glance