Consulting Services - Why Sarkar Office?
Sarkar Office Japan KK is a "Consulting and Administrative Legal Services" firm in Japan since 1993.
Since 1995 we have been providing Management, Marketing and Bridging Consulting services; however, the founding Director has over three decades of experience as a Marketing, Management and Bridging Consultant, Business Auditor (Cisco Systems) and Paralegal Advisor in Japan and Asia and has extensive knowledge as a "Consultant."
Bridging Consulting Services for Japanese companies for "India Business."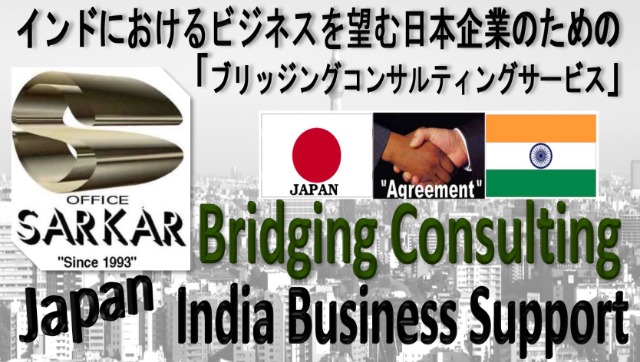 Since 2006~2007, the firm has been involved in "India Business Support Service" with the main focus to bridge the gap between Japanese and Indian businesses & vice versa. Providing "Bridging Consulting Services" to Japanese Companies willing to do business in or with India.
Management (
Bridging

) Consulting Services

"India Market Entry Consulting Services for Japanese Companies"

Business Entry and Hands-on Support - Why Sarkar Office®?

Sarkar Office Japan KK provides hands-on support for market development activities as the client's local arm in the target market at entry and post-entry levels.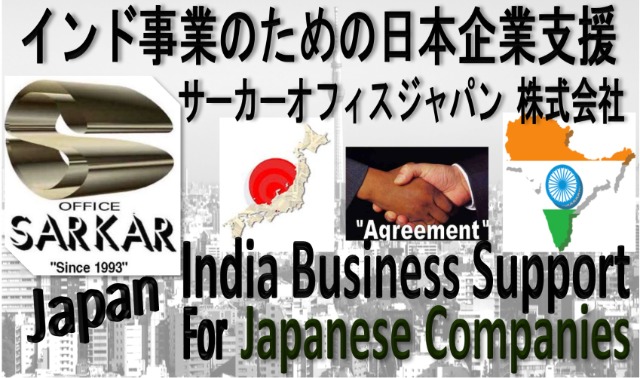 インド市場に関する日本企業のコンサルティングと実践的なサポート
We provide "Tailor-made Service" to fit the requirement of the client. We do not implement or believe in the template approach.
We undertake assignments after initial assessment and internal due diligence. We normally provide our quotation and "Terms of Reference" (TOR) of the project after carrying out a thorough Q&A session with the client.
We carry out the project based on the TOR. The client's role and responsibility, including the support for specific technical issues and all other related matters, are usually outlined in terms of reference.
We provide a hands-on approach and practical business support in a most cost-effective and time-efficient manner.
We implement an assignment in various steps and phases (multi-tier system), which allows the client to judge and review the progress and enables them to make decisions based on the initial findings and actual results without making a long-term commitment from day one.
We "Walk the Talk" with our client in the development process as an integral part rather than acting as a sole outsider advisor.
We follow a simple principle of "job was taken to be delivered at the best of our ability and client's satisfaction" and provide a very flexible exit clause to our client in the event of unfavorable findings and results.