Consulting Services
Sarkar Office Japan KK is a "Bridging Consulting and Administrative Legal Services" firm in Japan involved in providing " One Stop Solution for Market Entry Support" at entry and post entry-level, business & administrative legal services in Japan to foreign companies & entrepreneur since 1993.
Since 1995 the firm has been providing "Consulting Services" Marketing, Management & Bridging Consulting, market-entry planning and implementation process support, business auditing, practical based target market research in association with conventional research approach, market development services, localization, marketing & procurement of products & services, identifying & screening local business partner(s), monitoring local partners on behalf of the clients and support in other related business activities. However, the Founding Director has over 30 years experience as a Marketing, Management & Bridging Consultant, Cisco certified Business Auditor and Paralegal Advisor in Japan & Asia and has extensive knowledge as a "Consultant".
Bridging Consulting Services for Japanese companies for "India business"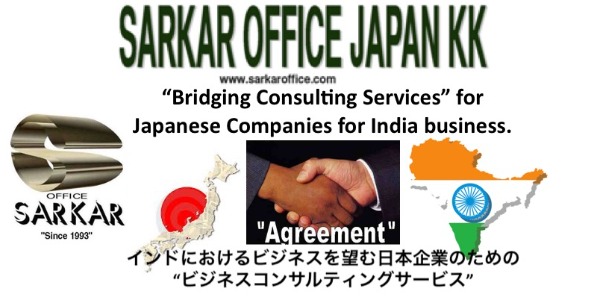 Since 2006~2007 have been involved in Management, Marketing & Bridging Consultant for Japanese companies, with the focus to '"Act as a Bridging Consultant'" for Japanese companies interested in doing business in India for both pre and post entry-level business support in bridging the gap re cultural & business ethics and other related areas.
Management Consulting Services
"India Market Entry Consulting Services for Japanese Companies"
Consulting Service Outline
Market research / Market entry planning: We research buyers, consumers, endue needs and trends, sensibilities, business practices, and in-depth industry information and assists in the market entry planning.
Marketing & Procurement / Market development & Entry support: We assist our clients in identifying, screening & selection of appropriate sales / distribution / procurement route vide local business partner(s) to save time, control costs, increase cost-efficiency, productivity and hands-on support for market entry.
Representation & liaison: We act as a representative / liaison office / marketing / procurement activities representative for our clients and monitoring local partners on behalf of the clients & supporting in other related activities.
New business development: We act as an adviser & provide hands-on support for new business development for entry-level companies; and post-entry level companies who would like to diversify or increase their market share.
Business Auditing: We conduct Business Audit for MNC, large scale to medium & small size firms as per the Client's requirement, such as Cisco Channel Partner program auditing etc.
Business Planning & preparation, M&A etc.: We assist in preparation of Business Planning for New Projects / entry level market planning and assist in M&A and other related business activities such as:
Identifying Business Partners, Business Negotiations and localization

Bridging the gap re difference in Culture, business ethics

Product Sourcing / Product Licensing & related services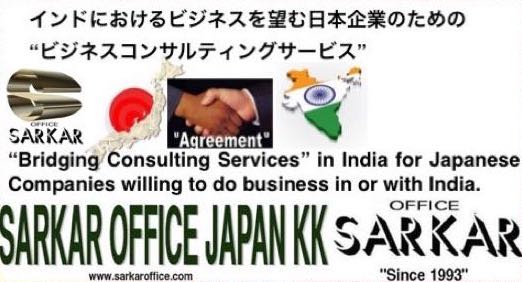 インド市場に関する日本企業のコンサルティングと実践的なサポート
Sarkar Office Japan 株式会社(SARKAR OFFICE®)は1993年に設立された経営管理コンサルティングおよび法務事務サービス会社です。サーカオフィスは、06-07年からインド向けサービスを開始しました。
サーカーオフィスは、日本にビジネスを設立しようとする外国企業のための「経営管理行政法律事務所」です。日本にビジネスを展開したい外国企業のための「ワンストップソリューション」。
サーカーオフィス ジャパン株式会社は、06年から07年にかけて日系企業向けにインドのビジネスサポートサービスを開始しました。インドとのビジネスを最も費用対効果の高い方法でサポートするため、日本企業を支援しています。 インドでビジネスをしたい日本の企業は、毎日常に変化し成長しているインド市場に精通した橋渡しコンサルタントに任せてください。