Godo Kaisha (GK Co) Registration
Japan Godo Kaisha (GK Co.), Limited Liability Company(LLC) Registration, Incorporation, Formation. Setting up a Godo Kaisha (GK Co.) in Japan. Opening up a legal entity (GK Co.)/LLC and business presence in Japan.
A Godo Kaisha, commonly abbreviated GK, is defined under the "Companies Act of Japan." GK is a comparatively new type of company introduced in the Companies Act of Japan" in May-2006. GK is similar to the UK's private limited company (Ltd) or the American limited liability company (LLC).
A Godo Kaisha can be registered in the English alphabet, i.e., ABC Consulting "合同会社" ("Godo Kaisha") must be registered in the Japanese kanji characters. Promoters/Investors in GK are called "Members" (社員, shain), and each member provides a capital/equity contribution. Members(investors) of a GK have limited liability, similar to a Kabushiki Kaisha(KK) shareholders. Each member's liability to the company is limited to the amount they have invested.
Godo Kaisha (GK Co.) Registration: An individual and or a company can incorporate a GK. A foreign entrepreneur or a corporation can incorporate a Godo Kaisha (GK Co) in Japan without a "Local Resident in Japan" under the Companies Act of Japan" introduced in May-2006.
Japan "One-Stop Solution" "Since 1993"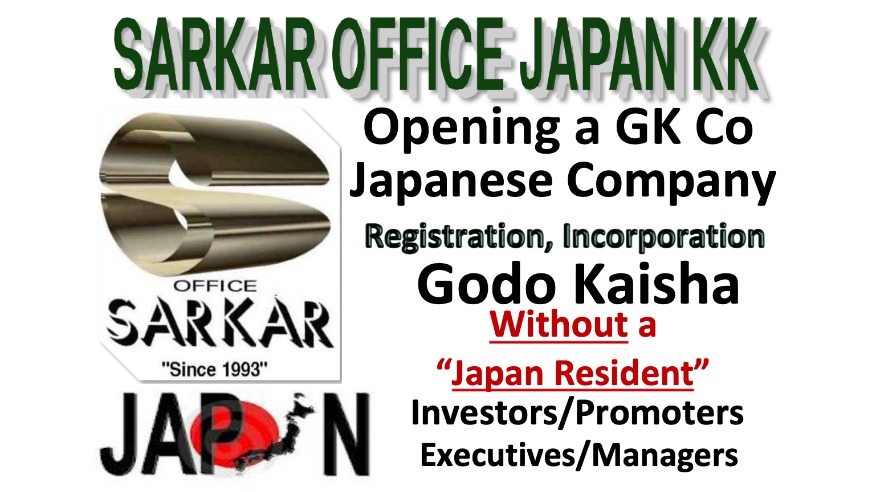 The tax structure is the same for GK Co. and other legal entities in Japan, such as KK Co. On the other hand, a GK is a company with considerable flexibility concerning decision-making methods for operations, management, distribution of profits, and other related matters.
Note: "No Local Resident in Japan" is required to register a Godo Kaisha in Japan under the Companies Act of Japan" introduced in May-2006. Only a Japan address is necessary for the GK incorporation in Japan.
Japan Godo-Kaisha (GK Co.) / LLC Incorporation, Registration, Formation Services
Japan Company Formation
[Business & legal-entity establishment in Japan]
Promoters/Investors: All Members(Promoters/Investors) in GK are "Representatives of the Company" by default unless Executive Manager has been appointed. The Members in GK may choose one or more Executive Manager(gyōmu shikkō shain [業務執行社員]) from among their ranks. The Executive Manager (gyōmu shikkō shain) can be either an Individual or a Corporation. However, in the case of "Corporate Executive Managers," it must appoint at least one functional manager (shokumu shikkō sha[職務執行者]) to perform the actual management duties. The legal duties of GK Co. managers are similar to the duties of KK Co. directors.  
The American companies also prefer a GK Co. in the form of a subsidiary company in Japan by the Check-the-box Regulation under the U.S. tax law. They can enjoy a pass-through treatment concerning the GK's profits and losses under U.S. taxation.
A Godo Kaisha (GK Co) in Japan may convert to a Kabushiki-Kaisha (KK Co.) with the unanimous consent of all of its members.
Time-frame for registration: Depends on the structure of promoters/investors, executive managers/officers, etc. Upon applying to Legal Affairs Bureau for registration, it takes about 2(two) weeks to obtain a company registration certificate.
Godo Kaisha (GK Co) registration procedures, steps, flowchart, and incorporation timeframe: please refer to the registration flowchart of GK Co.