Sarkar Office Japan KK - Overseas Associates - Referral arrangement
Overseas Associates Referral arrangement - Brief Guidelines
Overseas Associates - Japan Incorporation
Since our inception in 1993, we have relied on our Japan incorporation & post-incorporation business based on our client's referral, network, friends, contacts, and associates.
Japan "One-Stop Solution" "Since 1993"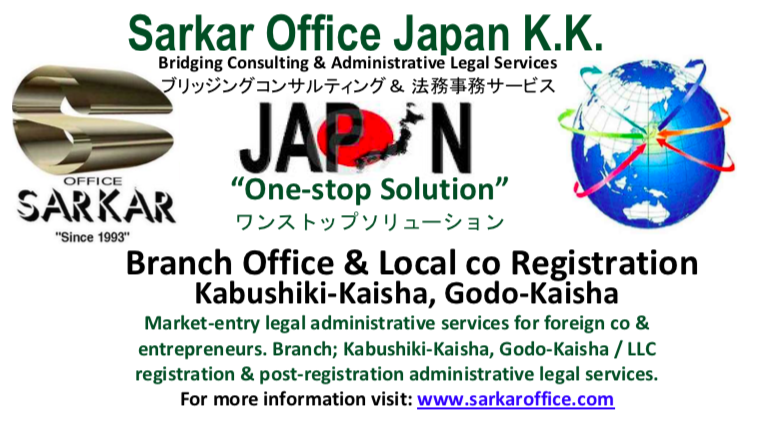 An Overseas Associates Referral arrangement
Our Referral arrangement with our Overseas Associate is primarily based on the followings:
Sarkar Office Japan KK - Overseas associates referral arrangement program
We compensate our associates based on prior arranged terms & conditions. For example, reimbursement of an agreed percentage of our fees (not on our total billing amount as it also includes actual costs) for each successful referral case received through an associate introduction and paid upon receiving the payment from the referred client by them. We also offer a flat-rate fee to our overseas associates. They do billing to their client as per their prices; however, in such a case, the overseas associate does all coordination and takes all responsibility with their client.

A "successful referral case" means when an overseas associate refers a prospective client and we accept the assignment and payment received from the same as per our terms & conditions either directly from the client or the overseas associate firm.

Wherever possible, without any firm commitment, we refer to our overseas associate from time to time a prospective client (if & when we receive such inquiry) for their jurisdiction based on a prior arrangement of terms & conditions of such case between the parties.

We try our best to cooperate with our overseas associates to pass on to them the basic knowledge about "Japan incorporation & related services," which is usually done while handling inquiries from them for a particular case or case.

We believe in a transparent working relationship with our overseas associates and accept the same reciprocity from them in dealing with us. For example, any correspondence (if it is at all required) from our end to their referred client has always been carried out with cc to our overseas associate. We refrain from dealing directly with our overseas associate client unless both parties agree on it in advance.

We reserve the right to accept or decline an assignment of Japan incorporation or post-incorporation related services referred by our associate based on our internal assessment process.

Our overseas associates do not possess any right to commit to their client on our behalf unless we agree to such matter and content in writing to them in advance.

Our overseas associate referral arrangement is in the form of an "informal working arrangement" between the parties (firms) as per prior agreed terms & conditions, and it does not in any form can be termed as a "formal agreement" between the parties (firms) and both parties are an independent entity in their own country.
We only work with a selected number of overseas associates in some countries with the firms specializing in "company incorporation and related services," and we are open to discuss with other similar overseas firms to expand our network of "overseas associates"!